john pippus
News Archive 2014
"Call Me The Breeze". Dec. 15, 2014
Here is the first of three videos shot in early November (see post below):
The John Pippus Band - "Call Me The Breeze" (J.J. Cale) from The John Pippus Band on Vimeo.
New Music Videos Coming! Nov. 13,2014
Last Tuesday we spent the day at The Hindenburg, a new Gastown nightclub, shooting three live-performance music videos. We had a three-person crew from Brass Tacks Films doing the video and a two-person crew from Sonic Root doing sound recording. We also had a still photographer documenting the proceedings. Along with Jake (drums) and Peggy (bass/vocals), and Beaver Thomas (guitar/vocals).
The songs we performed were: "Burn" (a co-write with Aynsley Leonard), "Secret World," and an acoustic version of the J.J. Cale classic, "Call Me The Breeze". The videos will be released in the coming weeks, starting with the J.J. Cale track .
New Band Member, Oct. 24, 2014
Peggy Wilson is my new bass player. We've been playing duo gigs as well as band dates with Jake Pippus (drums). Here we are at The Railway in September. Photo by Tom Quirk.
We've also been rehearsing with a friend of Peggy's, Beaver Thomas. He's originally from Saskatchewan but has been living in San Antonio,Texas and Nashville for the last ten years. He's an outstanding guitar player, vocalist and all-round musician/entertainer. We did our first gig last night as a four-piece at Lanalou's. Beaver brings new life to the material and I can't wait to book another full band date with him. I'm planning on shooting a couple of videos too with this line-up.
Going National on CBC Radio, September 5, 2014
I'm very pleased to announce that CBC Radio One's "The 180 Show" with host Jim Brown has chosen an instrumental version of my song "Whole Lot Of Your Love" to be used as their closing theme on the weekly, national program (Sundays at 11AM and repeat broadcasts on Mondays). Have a listen.
A live, off-the-floor version, with vocal, is available on my 4th album, Howl At The Moon". Link to it on my music page.
Tour News, August 29, 2014
I'll be taking the VIA train from Vancouver to Toronto playing for the passengers in exchange for room and board. Bandmate Aynsley Leonard will be joining me. We leave on the four-day trip on Sept. 28th. In Toronto, Jake Pippus (drums) and Jeff Carter (bass) will join us for shows at C'est What and then in Sarnia at Paddy Flaherty's. The four-piece Toronto band, Running Red Lights will be on the bill for these two dates. Aynsley and I will wrap up the tour in Montreal at The Brass Door Pub the following weekend.
The tour officially launches at Slickity Jim's in Vancouver on Thursday Sept. 25th. Aynsley and I will be joined by Peggy Wilson on bass. See the "shows" page for venue details.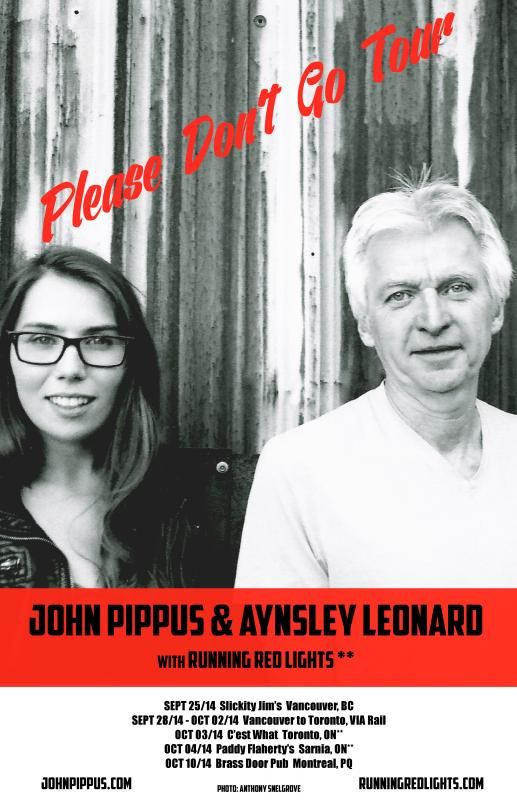 August Shows Coming Up!, July 27, 2014
Shows coming up in August include summer festivals in West Van, Nanaimo, East Van, and UBC Spirit Park. Also two nights at a White Rock blues bar and more. See my "shows" page for details. And the Ontario tour is coming together for the fall, starting with a cross country train trip playing for the passengers in exchange for room and board.
Netherlands Tour Ends, May 15, 2014
Three weeks later, I'm back home. Already planning another visit for next year. Such a good time. Here's a photo by Guus Helms, taken on the last night of the tour in Amsterdam. Every show had it's own special charm. This one was no exception.
I'm working on a two week tour in Ontario for early October. It will start with a train ride from Vancouver to Toronto, leaving Sept. 28th. I'll be playing for the passengers in exchange for room and board. A nice way to see the country and meet new people.
Netherlands Tour Begins, April 23, 2014
A little bit nervous, apprehensive... but also excited and looking forward to my second tour of The Netherlands. I was there in May of 2012, so it's been two years since my last visit.
Technically it's incorrect to say Holland. That would only refer to two of the eleven provinces that make up the country. You can google it if you want a quick history lesson, but it's enough to say that some take offense, mild or otherwise, to being described as living in Holland if they are, in fact, living in one of the other Dutch provinces that comprises the entire country.
I'll be posting updates, here and on my Facebook page, so check back to read about my adventures, musical and otherwise!
Last Night, April 18, 2014
Jake, Ayns, and I played a 45-minute set last night at the Cellar Nightclub. I gotta say, we delivered a really solid performance. Nothing like seeing all the hard work pay off and have it all come together as you hope it will. The audience was really into it (lots of head bobbing, clapping along in the right places, and comments afterwards), but the best comment came from the sound guy. When I complimented him afterwards on how good it sounded on stage, (with full up vocals in the monitor mix and the drums mic'd so they were sounding crisp and tight), he said it's easy to get good sound when the band is good (or words to that effect). Aw shucks! Thanks James!
We started with an a cappella version of BTO's "Taking Care of Business" and ended with Steve Winwood's "Gimme Some Loving". In between we played eight originals ranging from blues to country to folk and soul. Can't say we're not eclectic!
Next gig is tomorrow night at Frankie G's Pub out in New Westminster. 8 to midnight, just Jake on drums and me. A real challenge but coming off a good night, I'm looking forward to it. Then on Wednesday I'm off to Holland for three weeks. (See my "shows" page for tour details.
Headlining A Good Cause, April 12, 2014
We're headlining at a charity event at the Cellar Nightclub on Thursday night. See the "Shows" page for details. This is a CD launch for a compilation album that includes tracks from The Fugitives, Current Swell, Nat Jay, and nine more Vancouver acts. My contribution is "Jack Knives and Cannonballs" from my second album, "Born A Genius". All proceeds to a charity that provides makeovers to at-risk and marginalized women.
Facebook Event for Three New Videos, March 24, 2014
I've just made a Facebook Event to launch three new, live performance videos that I did with my duo partner, Aynsley Leonard. Good response so far. They're also on my YouTube Channel, along with band performances, and solo work. Hope you'll stop by, subscribe to my channel (to get notifications of future uploads), and leave a comment!
New Video, "Airplane Woman", March 18, 2014
"Airplane Woman" showed up on my third album, "Wrapped Up In the Blues (2011). Now, I've recorded a live, duo version with Aynsley Leonard. We spent a recent Monday afternoon in Adam Bailie's studio/living room recording three songs and an interview. The first comment on my Facebook page when I posted it there a few minutes ago says this version is "red hot". I tend to agree. I know we had a lot of fun at this session.
House Concert, Jazz Fest, and New Videos, March 17, 2014
On Saturday night Moira and Bill Laurie hosted me in their home on Protection Island for a house concert. It was a real honour and privilege to be there. Fifteen or so friendly and attentive people crowded into the living room and I played an hour's worth of my original songs. Afterwards we chatted in the kitchen until pretty late. One of those attending was Canadian folk legend David Essig. David has released 20 albums over 40 years and has recently published a novel, "Dancing Hand". He gave me a copy when I went to visit him the next morning. I was touched to read his kind inscription: "To John, A kindred soul in the arts".
I'll be applying for the VIA rail program. My plan is to line up a tour in Ontario for a week or two with my band this autumn. And I'm hoping I can get the VIA gig lined up at the same time so that Aynsley and I get our fare covered to and from Toronto in exchange for playing for the passengers each day.
To help secure the train gig (and other gigs too), Aynsley and I shot three live performance videos last week at Adam Bailie's studio/living room. Aynsley and I do high energy acoustic versions of "Airplane Woman" (from the third album, "Wrapped Up In The Blues"), a country duet called "Love Is Here To Stay" and "You've Got To Hold On" (not the Alabama Shakes song, this "Hold On" is a new original). They'll be up on YouTube by the end of the week. Along with an interview we shot as well.
And I got word today that I'll be playing in the TD International Jazz Festival. I'll be playing guitar in Michelle Richard's quartet. We'll be doing a noon hour set at St. Andrew's Wesley United Church on Tuesday June 24th. Details on the "shows" page. We played at a recent festival and had a blast going through some classic R&B tunes, rocking blues, and more. And one month to go before the Spring Tour in The Netherlands. So lots to look forward to.
A Photo From the Up Coming Dutch Tour, March 16, 2014
Here's an interior shot of one of the venues I'll be playing in Holland. The Arsenaal Theatre. Check the chandeliers and red velvet seats.
I'm hoping, of course, to get those seats filled! There's a good poster campaign underway I'm told. More details on this venue and all the other stops on the tour are on my "shows" page.
On The Road, March 12, 2014
In January I was on tour with Toronto's Running Red Lights. We played Montreal, Ottawa, Toronto and a number of smaller cities in rural Ontario. Here we are in Sarnia, Ontario at Paddy O'Flaherty's on a Saturday night.
Left to Right: Kevin Howley on drums, Scarlett Flynn on vocals and tambourine, and that's me on harmonica. (David Puzak's guitar and Jeff Carter's bass are also visible over my left shoulder). Angie Smolders took the photo. She also owns Paddy's and does the bookings. A real asset to the Canadian live music scene.
This Saturday I'm playing a house concert on Protection Island. That's two ferry rides from Vancouver. And next month I go to The Netherlands (see my 'shows' page) for my second tour over there. Watch for more photos from the road.
Playing at Pat's Pub Next Month, February 11, 2014
I'm playing with the band next month at Pat's Pub, located in the Patricia Hotel on Vancouver's eastside. This is the 100th anniversary of the hotel. Quoting from their website:
"Although currently known as Pat's Pub, the pub was originally known as The Patricia Café. Established in 1914 The Patricia Café was run by Will Bowman and was one of Vancouver's jazz hotspots at the time. Pat's Pub is thick with jazz history; some of the musicians who played at the Patricia Café at the time were influential in the transition between ragtime and jazz piano styles.
Most notably is Ferdinand "Jelly Roll" Morton who at the age of 28 made Vancouver his home during August 1919 thru to January 1921. During his time in Vancouver "Jelly Roll" Morton performed in the Patricia Café as well as roomed in the Patricia Hotel. To this day the Pub's original wood floor exists as a reminder of its history."
I'm currently looking for a second act to open. Music starts at 9PM. Cover only $6. Come on down, if you're in the area.
Ontario Tour Wraps Up, February 4, 2014
The Ontario tour with Running Red Lights wrapped up at Theatre Passe Muraille in Toronto on Friday Jan. 31st. We covered cities from Sarnia to Ottawa with many stops in between, and over to Montreal for a crazy good time at Pub St. Ciboire one memorable Saturday night. Along the way, we met a lot of good folks, and just generally enjoyed ourselves. Next tour is in The Netherlands in April and May. See the "shows" page for details.
Another "Best of 2013" List!!!, January 9, 2014
Well this could go to my head... Howl At The Moon", my fourth album, is on three "Best of 2013" lists. Tom Harrison, the music critic at The Province newspaper, is the latest to award this very cool honour. I mean, how many albums do you think a music critic at a major newspaper goes through in an average year? To be selected for that coveted top 10 list really makes me feel proud and delighted for all involved.
Under the headline, "The 10 best indie efforts of 2013", Tom writes: ,"No easy pickings, but this list of local releases sure got our attention". And then he says: "The John Pippus Band: Howl At The Moon (reviewed Feb. 5) His best so far, a blues flavour, a consistent standard of writing, and a small but sympathetic backing ensemble.
The other two "Best Of" citations are in the following two listings, along with band and production credits.
"Howl" on Jazz On the Rock's Top 13 for 2013, January 1, 2014
A two-hour syndicated radio show called "Jazz On The Rocks" has picked their favorite albums for 2013 and I'm proud to say that "Howl At The Moon" is on the list.
Show host Shelley Gummeson says:" My favourite non-jazz album from 2013 I'd say is Howl at the Moon from Vancouver singer/songwriter John Pippus. It's not perfect but it's real. I love the go-for-broke authenticity of this album".
Up next is a three-song video EP that I'll be releasing in a week or two. It's recorded and edited, now I just need to get it packaged up. And show-wise, I've got a duo gig at The Sylvia Hotel next week, and then I leave for a winter tour in Ontario, starting Jan. 16th. We also play in my favorite Canadian city, Montreal, at Pub St. Ciboire. Details on my 'shows' page.
News Archive
2019 | 2018 | 2017 | 2016 | 2015 | 2014 | 2013 | 2012 | 2011 | 2010 | 2009 | 2008